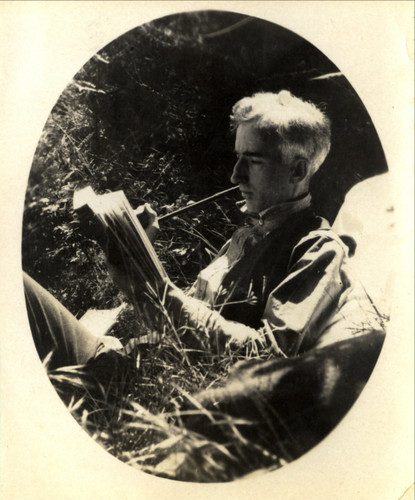 Leo Stanley, ca. 1915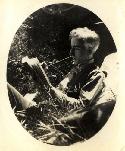 Here are some quick reflections I wrote down about San Quentin's longtime Chief Medical Officer before I have to take his book back to the library. (I've already renewed it three times.) -kt


Leo Stanley, M.D. , "the Old Croaker," as he was known to his patients, wanders in and out of our story like a chatty eccentric that Charles Dickens might have invented in one of his darker moments. Dr. Stanley doesn't advance the narrative in any significant way, but he informs our understanding of the socio-cultural millieu in which the action takes place.
Stanley enjoyed a remarkably long tenure at San Quentin. He held the office of Chief Surgeon at the prison from 1913 until his retirement in 1951, with time out for service as a Navy Medical Officer during the Second World War. (He also served as Acting Warden for a few months in 1933.)
His career nearly came to a sudden and ignominous end, however, due to a scandal that generated lurid headlines across the country. A story from the Los Angeles Times of Monday, May 16, 1928, gives us some sense of the narrowness of Stanley's escape from professional disgrace.
Regardless of what others may or may not do, Attorney Milton T. U'ren said tonight he will ask disciplinary action on his own initiative against Dr. L. L. Stanley, San Quentin prison physician, because of the mutilation after the death of the body of Clarence (Buck) Kelly, who was hanged at the prison last Friday. U'ren represented the so called "Terror Bandit" when he was tried, convicted and sentenced to death for slaying three men in a one-night orgy of crime.
U'ren had uncovered incontrovertible evidence of criminal action on Stanley's part, and he demanded justice. The Times story reports that U'ren "said that in view of an admission by University of California Hospital surgeons that glands take from Kelly's body were used in a transplantation operation, it was apparent to him that Dr. Stanley either should resign or be asked to resign by the State Prison Board."
The seriousness of Stanley's transgression no doubt became more apparent to the public once they figured out what "glands" was a euphemism for.
The glands in question, the ones that Stanley had used in the "transplantation operation," were, in fact, Kelly's testicles.
The operation was not a transplant, in the sense that we use the term today. It wasn't a matter of swapping out one body part for another. Rather, Stanley was interested in introducing donor tissue into a patient in whatever form and location might prove convenient. Through decades of trial and error, Stanley would settle on a technique that involved grinding up testicles (whether with a mortar and pestle or a more technologically advanced instrument we don't know) and injecting them subcutaneously. His 1940 memoir, Men at Their Worst , details this procedure and its wholesome results:
...I had evolved a method of grinding the substance to the consistency of tooth paste and injecting it under the skin of the abdomen with a pressure syringe. We found in analyzing the effects produced that many conditions were benefited, among them general asthenia, diabetes, acne vulgaris, sexual lassitude, constipation, and asthma.
In a passage oft cited by chroniclers of quackery, Stanley recalls one particularly responsive patient:
I was repaid for my efforts when I sat in the bleachers in the Yard during the annual field meet and saw old John Meadows, seventy-three years old and doing life, run fifty yards in seven seconds flat, following, and owing to, a glandular implantation.
Anecdotes of patient satisfaction notwithstanding, U'ren had an ironclad case against Stanley and the other physicians who had participated in Kelly's disection. The body of an executed prisoner did not, as Stanley had always assumed, belong to the State but to the prisoner's next of kin, in the case of Kelly, his mother and father.
As luck would have it, Kelly, Sr. was himself an inmate at San Quentin, a resident of "'Crazy Alley,' the ward for the mentally deficient," according to Stanley's memoir [Men, page 96]. He seems to have lacked the mental capacity to participate in any legal proceedings. That left Kelly's mother, who settled out of court.
Stanley kept his job, but he had to give up the practice of harvesting organs from the inmates who died on San Quentin's gallows. After May, 1928, he would continue injecting his patients (and himself) with ground testicles, but the testicle donors belonged, for the most part, to the species <i>Ovis aries</i>, the domestic sheep.
After May, 1928, he injected his patients (and himself) with non-human testicles, preferring those of the Ovis aries , the domestic sheep.
Kurt True
10 sep 2017